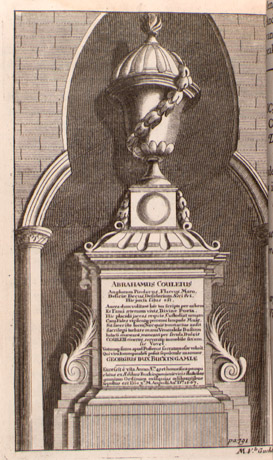 From The Works of Abraham Cowley, 10th ed. (London, 1707).
Reproduced with permission from the Special Collections of
the University of Virginia.



Transcript of the Epitaph:

ABRAHAMUS COULEIUS

Anglorum Pindarus, Flaccus, Maro,
Deliciæ, Decus, Desiderium Aevi sui,
Hic iuxta situs est.

Aurea dum volitant late tua scripta per orbem
Et Famâ æternum vivis, Divine Poeta,
Hic placidâ jaceas requie, Custodiat urnam
Cana Fides vigilentque perrenni lampade Musæ.
Sit sacer iste locus, Nec quis temerarius ausit
Sacrilegâ turbare manu Venerabile Bustum
Intacti maneant, maneant per secula Dulcis
COULEII cineres, serventque immobile saxum.


sic Vovet

Votumque suum apud Posteros sacratum esse voluit
Qui viro Incomparabili posuit sepulcrale marmor,


GEORGIUS DUX BUCKINGAMIAE

---

Excessit è vita Anno Æ.tis 49 et honorifica pompa
elatus ex Ædibus Buckingamianis viris illustribus
omnium Ordinum exsequias celibrantibus
sepultus est Die 3.o M. Augusti An.o D.ni 1667.




Translation of the Epitaph*:

ABRAHAM COWLEY;

the English Pindar, Horace, Virgil:
the delight, glory and desire of his age,
lies near this place.

Whilst that thy glorious volumes still survive
And thou (great Poet) art in Fame alive,
Here take thy full repose, free from alarmes,
In th'Churches bosome and the Muses armes.
Speak and tread softly Passengers, and none
With an unhallowed touch pollute this stone
Let sweet-strained Cowley in death's sleep ne're stir
But rest, rest ever in his sepulchre.†


So wisheth

And desires his wish may be Sacred to posterity
He who erected this monument To that incomparable person


GEORGIUS DUX BUCKINGAMIAE

---

He departed this life in the 49 year of his age
And was buried in great state out of the Duke of
Buckingham's House Many illustrious persons of all
degrees attending his funeral. August 3d. 1667.

| | | |
| --- | --- | --- |
| | * MS. written "on the back of a damaged copy of Faithorne's engraved portrait" of Cowley, here reprinted from Henry Campkin's transcript in Notes and Queries, n.s. 5 (1852), 267-68; verses at the lower left are apparently to be inserted in the literal translation at †, and a note at the top of Campkin's transcript ("per Carolum Scarborough Militem Med. Doctorem") suggests that either the Latin or the amplified English translation or both are the work of Cowley's friend Dr. Scarborough, knighted 1669, as reported in the DNB entry s.n. Scarburgh, Sir Charles. The burlesque written on the same sheet mocks the pomp of the epitaph itself and the inserted verses alike, but treats Cowley himself with a playful respect; topicalities here speak for the piece as authentic, but it may be a literate forgery of the sort not uncommon in Campkin's day. Visit our Other Verses on Cowley for an earlier parodic rejoinder to Cowley's own Pindaric Odes. Our transcript has been normalized in the same way as Cowley's "Hymn to Light; in line 2 of "Burlesque," we have also changed "Sr" ("Sir") to "St" ("St.)." | |