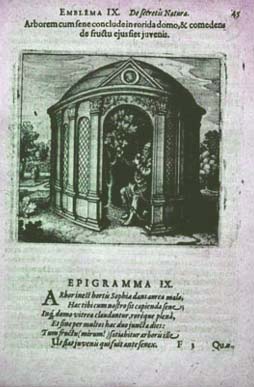 The golden apples of longevity.


The Latin poem's meaning accompanying this emblem (with the caption in Latin, "Close a tree with an old man in a humid chamber, and by eating its fruit he will grow young"):
A golden-fruiting tree, from Wisdom's garden;
Take this in hand, along with our old man,
Shut them up in a glasshouse full of moisture
And there joined leave the two for many days;
Then - wondrous! - with the fruit that tree affording
Fed full, he will grow young that once was old.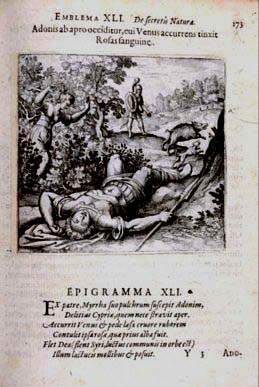 Hunted hunters: Adonis and Venus.


The Latin poem's meaning accompanying this emblem (with the caption in Latin, "Adonis was slain by a boar, and in running to him Venus tinged roses red with her blood"):
By her sire Myrrha fair Adonis got,
Venus' beloved, by the boar o'erthrown;
running to him, wounding her foot, she tinged
with her own blood what first was white, the rose.
She wept (the Syrians wept, all shared the woe),
and laid him out on lettuce soft below.*